Amish Rustics
Handcrafted in America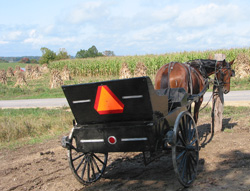 From the heart of the Amish Country we bring you heirloom quality furniture that is hand built, and made to last. Real woods, quality finishes, and features that you just don't see in imported furniture is what sets our Amish pieces apart.
You can feel good knowing that your purchase supports true Amish communities throughout the Midwest. We know how important it is to invest in things that are Made in America, and every piece of Amish furniture is just that.
Steeped in Tradition
Step back in time to when things were a whole lot simpler. See the world the way that it used to be. The Amish hold tight to traditions that set them apart from the English.
They travel by horse-drawn buggy, make all of their own clothing, and live off of their lands that are farmed without the use of any chemicals, or modern day machinery.
At our Amish shops you will see tools that have not been used in most furniture making for decades. The workshops are warmed with wood burning stoves in the winter, and lit by lantern in the evenings. Cleverly placed and abundant windows keep everything bright in the daytime, and cool on even the hottest summer days. Generations of family work together to handcraft every piece of furniture that you will see in our store.
Get a peek into Amish life. View our slideshow below, of a trip into the Amish countryside:
(Use the arrows on the left/right of the image to see the prev/next photos.)
Quality you can depend on
Our Amish furniture comes in a variety of styles to match your decor. Every Amish handcrafted item comes with a Lifetime Warranty Guarantee.
All of our Amish pieces use solid, kiln dried woods, sure to last for generations to come! Experience the difference in quality that sets these hand built pieces apart from today's mass produced furniture.
Some of the standard features you will see on our furniture are:
English Dovetailed drawers
High quality furniture grade plywood (NOT CARDBOARD) on some sides and backs of pieces, preventing warping and cracking.
Thick, solid 1" dining table tops. (NO VENEERS)
Rustic Log Furniture uses a super sophisticated tenon system, and has no need for unsightly lag bolts. You can't "shake" our beds!
Amish Chair legs are glued, screwed or pinned for super sturdiness.
Full extension ball bearing sides or under mount drawer glides. Soft close feature also available.
Most items are customizeable! You choose the wood, the stain, even the design.
Stop into our store today to see and feel the difference that investing in Amish heirloom furniture can make in your home.